3R Foam Shock Pads
For Playgrounds / Artificial Turf / Roof Gardens
3RFoam is an environmentally friendly, cost-effective, lightweight substitute for gravel made from 100% recycled post-industrial cross-linked polyethylene foam. The material combines fall protection with outstanding drainage properties, simple installation, lasting stability and unmatched resistance to wear.
The 3R Foam shock pad absorbs impact on compression and once pressure has been released it will recover to its original state. The 3R Foam pads are free draining , so any area , depending on the surface will dry out quickly following a downpour enabling the playground or sports pitch to be used a lot quicker than would normally be the case.

Children's playgrounds – 3Rfoam sheets and rolls can be used in conjunction with recycled particle rubber or synthetic grass as a protective layer for added safety

HIC Critical fall heights - are especially important where childrens playgrounds and playground equipment are concerned . The 3R Foam shock pad has been tested in accordance with EN 1177 : 2008 for Head Impact Criteria. The 25mm thick 3R Foam shock pad achieved a critical fall height of 1.4 mts , though this can be increased by doubling up the shock pads.

Roof gardens – 3RFoam has unique water drainage properties, while retaining sufficient moisture to support healthy plant growth and serves as an ideal base infrastructure for roof gardens . Green rooftops or roof gardens have the large advantage that they hold over half of the rain water.

Part of the precipitation evaporates and is used by the vegetation, and the rest of the water is slowly drained away and filtered at the same time. Especially in larger roof gardens, there is a risk that plants might die earlier due to localised moisture impoundments compared to a period of drought. The drainage surface is an essential part of a good functioning system.


Landscaping -3R Foam can also be used in a variety of landscaping projects , where good drainage is required under artificial grass ,in both domestic gardens as well as under sporting surfaces such as sand filled artificial turf.
3R Foam Shock Pads Sheets 25mm x 1.5 mt x 1 mt

Lightweight - Environmentally Friendly -Ideal for drainage & energy absorption
ROOT BARRIER SYSTEMS
Root barriers are needed to secure roots and force them to grow downwards. SCS Root Barrier is 0.5mm thick and suitable to line a trench or an individual tree. It will force the roots vertically to depths of 120cm before these spread laterally. For surrounds, simply line the edge of the tree pit and then overlap the material by 30cm, securing front and back with our root barrier joining tape.

Tree roots predominantly grow in the upper surface of the soil and spread out extensively laterally from the trunk. A good root system is essential to sustain healthy tree growth but the roots can be deflected to grow harmlessly to avoid damage to adjacent structures or services.


SCS Root Barrier is a tough, flexible and puncture resistant barrier which is highly resistant to root penetration and designed to protect structures and services from tree root damage, as well as controlling the spread of invasive plants (Such as Japanese Knotweed, Giant Hogweed, Mares Tail and Bamboo).
Price SCS Root Barrier 1.2mt x 50mt Roll £ 160.00 per roll
Price Tuflex Root Barrier 0.75mm thick x 7mt Wide Rolls £ 9.50 sq/mt
Tuflex pond liner possess exceptional flexibility , tear and puncture resistance qualities for all water containment projects , even at very low temperatures . Ornamental ponds and water storage lakes used in landscaping and irrigation projects utilise the attributes of the Tuflex Geomembrane.

The flexibility of Tuflex Geomembrane ensures that most ponds , ditches , lagoons , lakes and dams can be lined including those with inherently complex shapes.

A SCS Bespoke Pond Liner is a preformed pond liner made to your exact measurements and dimensions. Anything from simple shaped ponds to the more sophisticated and complicated forms can be catered for.


There are several reasons why a custom pond liner may be a better solution for your water feature or pond. As the pre-formed pond liner is made to exact measurements, it allows you to install the bespoke pond liner with minimal effort, there is a reduction in creases and it will give a smooth, tight fit, giving you an increased professional finish to your pond.
Please call for a price on made to measure Pond Liners , our price will include delivery to your front door !
PLUPAVE TURF & GRAVEL DRAINAGE CELL
For Parking Surfaces , Access Roads and Driveways - Ideal for Containment of Gravel
Plupave reinforcement structure acts as a containment solution for loose-laid gravel within paving systems. Unlike concrete systems the gravel acts as a porous layer which allows movement of water through the paving and into the ground below. When compared to loose-laid stone with no reinforcement, stability and rigidity is increased giving a solid road structure. The product prevents loss of gravel and arranges the gravel evenly across the drive/path resulting in an aesthetically pleasing surface.
Plupave reinforcement structure creates a subtle and almost invisible solution to gravel paved surfaces, whilst also offering the benefits of a durable, hard surface for light to medium loaded parking areas .
Ideal to House & Protect Grass
Plupave reinforcement structure is the only product available that allows both horizontal and vertical root growth. Unlike concrete systems, the root remains cool and grass growth thrives. Driving vehicles onto the grass has no effect on the protected roots. Aesthetically, the product allows the grass to fill in completely, creating a lush lawn with an invisible reinforcement structure.
Plupave reinforcement structure creates an attractive, durable, hard surface suitable for light to medium loaded parking areas. For such purposes special demarcation squares provide ground marking in place of traditional painted layouts .
The cells can be used in any situation where low to medium use parking surfaces, access roads and driveways are required. The cells can also be used for the construction of swales to collect rainwater and direct water to surface infiltration areas such as Versavoid sub-surface infiltration channels .

Plupave structure creates a reinforced cell around grass roots, protecting them from the pressures of pedestrian and vehicular movement . Movement over the grass protected by Plupave reinforcement structure therefore does not affect the roots and the plant is preserved within the ground structure.

Plupave's unique capabilities as a load bearing reinforcement structure give it a good application for emergency access routes. Whether it be for an escape route for a school across playing fields, where a path could not be inserted or whether it be for vehicle access for the emergency services. The structural properties can support the strains of loading that grass simply could not.

Price Plupave Turf & Gravel Drainage Cell 50mm x 500mm x 500mm £ 18.95 each
PLUVIAL CUBE - TOTAL WATER MANAGEMENT
Precipitation Collection System / Total Linear Access
Total Stormwater Management E.S.S. Geo-Cell Modular Tank systems use surface and sub-surface infiltration techniques, resulting in clean water that can be re-used or allowed to re-enter the natural water system. E.S.S. Geo-Cell Modular Systems offer a highly efficient option for Stormwater Management in any kind of soils.
Water Quality E.S.S. Geo-Cell Modular Tank Systems excel when there is a requirement to achieve a high water quality, particularly in the effective removal of nutrients and gross pollutants. In addition to the obvious environmental benefits, the sub-surface location of the tank system provides more usable space and an enhanced aesthetic setting compared to above ground concrete or plastic tanks.
Water sensitive Urban Channels The Channel Systems are based on permeable sub-surface waterways that restore water quality and recharge the natural environment. The subsurface E.S.S. Channel System provides a unique way of working with nature to solve the enormous problems currently associated with open concrete channels and swales.

Trafficable Landscape - Compaction Prevention: Loading Minimum Cover Pedestrian 300mm Occasional traffic 500mm If a trafficable, soft landscape surface is required (i.e. grass or gravel car parks, road verges etc.), it is recommended to use E.S.S. GeoCell 52 grass reinforcement structure. The addition of product will allow long-term permeability of the cover soil.

Subsurface Road Channels / Swales : Pluvial Cube Tanking System provides an efficient way of managing road stormwater runoff. It allows high infiltration areas, preventing road accidents, water ponding, and mosquito infestation Provides new accessible space .
Pluvial Cube Module Dimensions 500mm ( L ) 500mm ( W ) x 550mm ( D )
Module Configuration Single Module Units per cubic metre 7.27
Pluvial Cube Module Dimensions 500mm ( L ) 500mm ( W ) x 1075mm ( D )
Module Configuration Double Module Units per cubic metre 3.72
Pluvial Cube Module Dimensions 500mm ( L ) 500mm ( W ) x 1600mm ( D )
Module Configuration Triple Module Units per cubic metre 2.50
Pluvial Cube , Geo-Cell Tank Modules , Ecosand , Biologically Engineered Soils , E.S.S. Filtration Unit

Geotex Filtration Fabric , Tuflex Waterproofing Membrane , Geotex Protection Fleece

Also required Ventillation Units , Preformed Pipe Connection Covers , Aquabrake Flow Control Devices & Chambers .
Price Pluvial Cube Module HD £ 26.00 each
Price Pluvial Cube Module Standard £ 25.40 each
Price Tuflex Geomembrane £ 9.50 sq/mt
Price Geotex 300PP 6 metre wide rolls £ 4.50 sq/mt
Price Geotex 225FF 6 metre wide rolls £ 4.50 sq/mt
FIRMAWEB GROUND STABILISATION SYSTEM
Firmaweb Ground Stabilisation system is a three dimensional honeycombed network of perforated / textured cells to confine and redistribute loads and control erosion; quick and simple to install, it can be used for embankment stabilisation, road and rail construction, water courses, armouring, footpaths, and retaining walls. Firmaweb can increase material sheer strength, reducing fill requirements by up to 50%, and it's cellular structure can improve soil bearing capacity by up to 17 times. The ground stabilization ranges also includes Alderway and Geotex geotextiles and Secugrid polyester grid for ground reinforcement.
FirmaWeb reinforcement structure acts as a cellular confinement system for all granular infills. Unlike other systems, FirmaWeb uses the confinement of infills to provide load support and erosion control for many situations. Once filled, it provides a stable surface for both pedestrian and trafficked areas such as driveways, paths, car parks, golf courses and artificial surface sports fields.
SUDS - Sustainable Urban Drainage System
FirmaWeb cellular confinement system, can be used as a porous ground layer in many situations. The porosity of the perforated cells, combined with the porosity of the loose infill material, allows water penetration both vertically and horizontally making FirmaWeb the ideal choice for sustainable urban drainage system (SUDS) applications. Unlike typically saturated ground, FirmaWeb retains the structure of the surface by reinforcing and containing the infill, stabilising the ground and preventing erosion/ subsidence.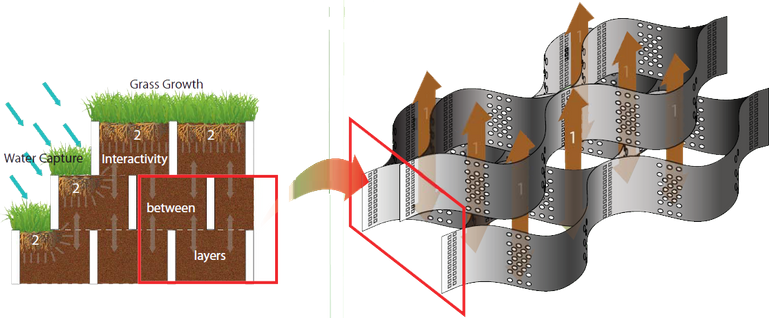 When used on slopes, FirmaWeb confines and reinforces vegetation by increasing the natural resistance to erosion. On non-vegetated slopes it prevents the down slope migration of the infill, resulting in an overall greater stability across the slope. When used on channels, riverbeds and swales, FirmaWeb increases the shear strength of the selected infill against the fl ow of water. The water is directed above the infilled cells, allowing the rootzone to remain undisturbed. FirmaWeb provides an attractive and economical alternative to concrete lined channels, or can be used within concrete to create a flexible concrete slab with inbuilt expansion joints.

Taking its use as load support, FirmaWeb has become the way to protect tree roots from the pressures of traffi cking and loading from above. Whether it be to protect a new sapling, or to introduce protection for a fully established tree, FirmaWeb can provide the relief needed for the roots to thrive. By using the load redistribution features (load support information p6) to evenly spread loading,

FirmaWeb reduces point loading and the associated pressures on tree roots beneath. By confi ning the soils, lateral movement is prevented, and the ground is stabilised, keeping a fl at, fi rm ground in place and stopping compaction of sub-soils, which put greater pressure on tree roots. Beneath the FirmaWeb tree roots are free to grow, and the relieved pressure promotes the migration of both water and nutrients, which eventually ensures the long-term preservation of the tree itself. How does it work? • Protects tree roots from the pressures of loading. • Offers protection without the need to prevent access by foot or by vehicle. • Promotes the migration of water and nutrients. • Eventually ensures the preservation of the tree.

When layered, FirmaWeb can retain earth by confining the soil face and preventing it from falling or being eroded. The exposed horizontal edges of the FirmaWeb structure provide space for vegetation to flourish, as well as platforms for rainwater capture.

As a road base reinforcement system, the FirmaWeb honeycombs spread loading across the extent of the cellular confinement. The cells behave like a stiff, yet flexible horizontal laminar element beneath the supported load bearing surface. By isolating and supporting the load bearing surface from the softer subgrades below, FirmaWeb successfully solves load bearing problems and provides a subtle and invisible finish to all surfaces.
By providing additional reinforcement to infill materials, FirmaWeb reduces infill requirements by up to 50%, reducing excavation depths and saving both time and money
The size of Firmaweb supplied depends on the number of cells per sq/mt and the price depends on both the number of cells per sq/mt and the depth of the cells . There are approximately 40 different permutations , please call for price and any advice on specification.
Call For Price 0800 047 6775
AQUADRAIN 25 ROOF GARDEN DRAINAGE CELL
Flexible Design using Aquadrain 25
Drainage is an essential part of any roof garden design. If there is too much water within the installation , root rot is likely to become a problem, and if there is too little water there will be poor vegetation growth. It is finding a good balance between the two extremes that leads to a healthy roof garden.
By using Aquadrain 25 as a roof garden drainage layer, green roofs are given the flexibility to perform both water drainage and water retention. Unlike other drainage solutions, Aquadrains robust structure , high void ratio and extreme loading capabilities do not restrict design. In fact it is quite the opposite , with Aquadrain successfully able to deal with many drainage related problems whilst also being able to cope with demanding loadings.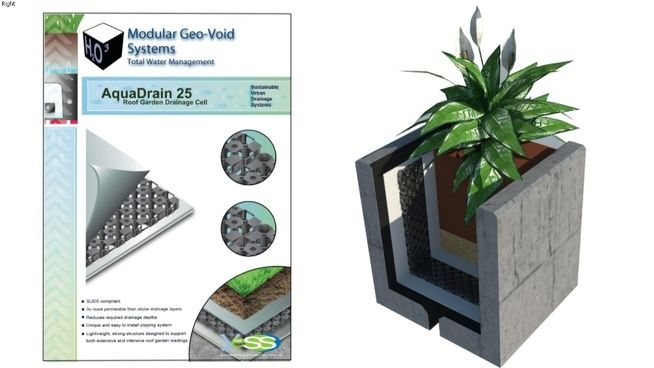 During storm events , roof gardens must be able to quickly deal with rainfall and absorb it as quickly as possible. Due to its 95% void ratio Aquadrain 25 is able to deal with the most demanding, sudden downpours and improves the overall retaining ability of the green roof. Each Aquadrain 25 plate is capable of retaining water within its structure which helps prevent topsoils from drying out during periods of warm dry weather. By storing this water within a void beneath the soils, plant roots are protected from roof rot without compromising plant growth.

During dry periods when the plate is not storing water, Aquadrain 25 becomes an aeration layer. Aeration is an essential part of roof garden design and is fundamental in promoting optimal vegetation growth.

Price Aquadrain 25 Drainage Cell 500mm x 500mm x 25mm £ 11.50 sq/mt
AQUADRAIN 50 LOAD BEARING DRAINAGE CELL
Used in Paths , Pavements , Roads, Car parks & Driveways
Aquadrain 50 provides an impressive drainage solution that can be adapted to work under any conditions. Its load bearing properties make it valuable for using beneath roads and car parks and its modular structure provides flexibility to work with other ESS drainage systems as part of a complete drainage solution.
Price Aquadrain 25 Drainage Cell 500mm x 500mm x 25mm £ 11.50 sq/mt
Price Aquadrain 50 Drainage Cell 500mm x 500mm x 50mm £ 19.75 sq/mt
Roads and Roadsides : Aquadrain 50 promotes the migration of water away from the surface of roads and roadsides , preventing pooling and reducing the risk of accidents associated with surface water.
Paths and Pavements : Aquadrain 50 ensures permeable paving can deal with the most demanding downfalls, removing the potential for puddles to occur and maintain pedestrian access at all times.

Car Parks and Driveways : Aquadrain 50 efficiently drains the build up of surface water in car parks , even those extremely vulnerable to flooding. Protecting access and property within and around the vicinity of the car park .